The Ballymoney Hawk...

On the hill of Creg-na -ba you left them in your wake!
But you should have stopped that glorious day for all of Ireland`s sake..
You who embraced the poor and lowly,now we stand beside your grave,
In your life you showed the men of Ulster how we should behave,
Without fear ,fuss or arrogance,you went your quiet way,
A superstar for certain,still one of us we`d have to say.

I stood today and saw the flowers on the fences at Dundrod,
Where you faced and raced the young guns on Antrim`s lovely sod,
But you gained your final laurels so far away from home,
On that awful day in Tallinn,when our hearts were turned to stone,
The final hour was sultry and the sky was dark with rain,
When the Hawk of Ballymoney fell and left this land in pain..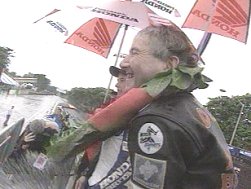 Seabhac Bhaile Monaidh..

Ar bharr Creg-na-ba ar Mhanainn
d`fhag tu ar do lorg iad!
Mairg nar stad den tseilg,
ag deireadh an lae ud..
Ba thu a ghlac na bochtain,
o achan aird chugat fein,
`Is a thog le cheile an Tuaisceart uile,
le mionghaire ar do bheal,
Gan eagla,gan fuadar,gan grainnin diomais,
leirigh tu duinn go leir,
an doigh is fearr chun fulaingt,
ar son na siochana,

Ba bhrothallach an uair i,
Ba fluich an trathnona,
Ba i bhfad o bhaile ar seachrain a bhi se,
an la cinnunach a thit Seabhac Bhaile Monaidh..