Welcome to a REALGAEL web site!I live in Belfast,where I was born and I believe that the bi-lingual approach is the most effective way of promoting the Irish language.This site will contain my own poems,regularly updated,with photographic illustrations and a basic explanation of the theme.Your comments are welcome-I won`t be offended!
Failte romhaibhse go leir go suiomh ilmheanach s`agamsa!Rugadh agus togadh i mBeal Feirste me agus creidim go bhfuil an modh dhatheangach an doigh is fearr leis an ghaeilge a chur chun cinn.Beidh mo chuid danta le fail ar an suiomh seo agus iad maisithe le pictiuiri agus bun mhiniu a ofrail chomh maith.Ni ghlacfar le baruil ar bith uaibhse, a leitheoiri, mar mhasla! Micheal macCoisdeala-Samhradh 2000
Port an Chabhlaigh 1976
Thios i bPort an chabhlaigh,oigbhean seang a`siul i mbeal na toinne,
Is i a caoile a chuireann cluain ar chuile stocach,
Shiulfa tamaill sula gcasfai a leitheid ortsa,
No go bhfeicfea radharc chomh brea mar shuaimhneas aigne.

Thios i bPort an Chabhlaigh,buachaill og a` sugradh ins a`ngaineamh,
A riocht faoina lamha beaga aige,
Mo mhairg a chaislean brea istoiche,
Nuair a sciobhfaidh sloite na mara a bhallai leo.

Iascairi an chladaigh,ag obair mar is toil leo leis na ciantaibh,
Ag gabhail ar thoir na mbradan um thrathnona,
Is i an fharraige a reim duchais,
A`s an ghrian ann mar a bheadh siul chirce...
Port an Chabhlaigh(top poem) is the bay of Teelin Harbour near Carrick in south Donegal.I was once overcome with excitment watching a wee boy making a sand castle and a beautiful young woman paddling in the water!The sunset was also stunning!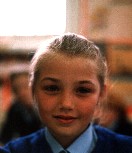 Do Eliza Ward nach maireann (1998)
Nuair a smaoinim ar d`oige I gcroilar Bheal Feirste,
Tu ag rith `is ag leim i gclos na scoile,
D`ailleacht aingsrianta a scaoileadh go fras I measc soineantas na laethe sin,
Deirim paidir de chogar faoi aer fhuar Bhaile an Mhuilinn.
Na tog orainn an searbhas seo faoin dhoigh ar ealaigh tu uainne.
For the late Eliza Ward...
Thinking back on the childhood you spent in the heart of Belfast,
I see you running,jumping and laughing in the schoolyard,
Your unrestrained beauty like a halo around you in those days of innocence,
Today I whisper a prayer for you in the cold Milltown air,
Please forgive us this bitterness we feel for the way in which we lost you...

I wrote these lines for Eliza Jo Ward 1979-1997,
A former pupil of mine at St.Matthew`s Primary school in Belfast,who was brutally murdered at her place of work in July 1997, aged 18 years,While defending her employer from attack.Eliza will always be remembered by her schools friends and all who knew her, for her roguish sense of humour and her courage. Go ndeana Dia trocaire uirthi.